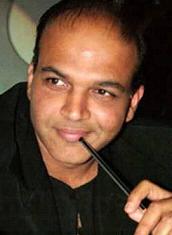 The hard hitting masala movie makers never think about the real means of making movies. Movies can be the best medium for a visionary director to propagate his vision through camera works. Very few indian directors stand immovably strong in this region. Ashutosh Govarikar is ofcourse one of these jewels.
He started his career as a director as early as 1993 when his directorial debut
Pehla Nasha
collapsed at the box-office. One more release after two years with promising star cast of Aamir Khan and Mamta Kulkarni with an action packed thriller
Baazi.
Again a flop. It was a good movie with lot of fun and entertainment. I personally liked it. But it was a clear rejection from mass.
Two consecutive super flops within two years are enough for an ordinary man to step out of his path. But genius like Ashutosh always knows what he exactly wants. He had something different in his mind. 5 years passed with his absence and nobody was interested to ask for him in these years. And finally the year 2001 came with
Lagaan.
Period film especially in that time when super duper blockbuster
kaho naa pyaar hai
ruled the bollywood last year and the flock of directors were imminent to take the ready made recipe for success. Ashutosh was running out of money. Infact he was almost a bankrupt after two consecutive flops. No producer was ready to invest crores of rupees for the gigantic budget. Aamir Khan was the man. He knew the talent of Ashutosh.
He put full trust in the story and script and launched the movie as the first movie under his production. And the rest is history.
That day and today. Ashutosh is going all the way to the path of his extreme talent.
Lagaan
highlighted the underlying patriotism of him. Then came
Swades
. Whenever I read somewhere that
Swades
is not a box office hit or not liked by the mass. Something pinches so badly inside my heart.
Swades
is my favourite movie from Ashutosh Govarikar. Each and every frame of it contains a potential message. Not a single word or line in the movie is wasted. I have some special perception and feelings for
Swades
.
In
Swades
, the real Soulful and meaningful cinema comes alive by none other than Ashutosh himself. The inch by inch detail work of each and every character makes a tight bond with your mind so every single character is just loved to watch.
The way Melaram adjusts his hairs and smiles, the way Nivaranji functions as a post man or as a pehlvaan, the way the movie Yaadon ki Baarat is screening and the way the Panchaayat sabhaa is conducted provide the riveting work for these scenes to be fit deep in your heart.
The entire sequence of Shahrukh's visit to Haridas and his return journey in the boat where he loses himself in the deep and sorrowful thinking. The scene of railway station where the poor kid sells a cup of water just for 25 paise. Yes. Shahrukh Khan is an amazing actor and the stupid kind of act he always does with his emotional eyes in Karan, Chopra and Farah movies where it is completely wasted, here it is intensively captured in this scene by the genius Ashutosh.
Ohh......I wish I can marry a girl like Geeta.........!! So simple and yet so attractive. Or let me call my kind of girl............!!
And above all is the music of Rahman Saheb especially the song
yeh jo des hai tera
and
yeh tara vo tara
. Perfectly intermingled in the story. Lot other scenes and sequences to discuss. Endless, really endless. A movie meaningful in its real sense.
Ashutosh has proved the strength of this entertainment media. He has shown us with Swades that movies are the best way to communicate. The best way to show your convictions thoughtfully and seriously to the mass.
I am a huge fan of yours. I respect you for your vision and style of movie making.
Love you Ashutosh Sir. We are fortunate to have you in Bollywood. God bless you...............!!